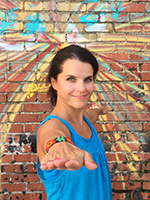 Elena Barton -
Elena began her yoga journey 10 years ago and instantly noticed the benefits the practice had not only on her body, but also on her mind and heart. Eventually her love for yoga brought her to Yoga Teacher Training in 2016. She got her 200-hour certification from Spirit House Yoga in OKC and her Prenatal Yoga teacher training at Kripalu Center for Yoga and Health in Stockbridge, MA.
Her passion in teaching yoga is to make yoga safe and accessible for everybody, create space for students to experience mind-body connection on the mat and to invite them on the journey to deeper peace and self-discovery. A Birth Doula and Childbirth Educator, Elena brings seven years of experience in the birth field into her Prenatal yoga classes, offering mothers practical tools they can use to have a more satisfying pregnancy, labor and birth.
In her spare time, Elena is usually cooking for her friends, hosting a party, exploring the world or playing with her backyard chickens.
Gail Holland -
Gail began yoga primarily for the physical benefits, primarily stress reduction, but over the years has come to appreciate the other benefits especially the relationship between the mind and the body. She has studied under several excellent teachers in Stillwater and has attended workshops in Oklahoma, Texas, Washington D.C. and Oregon with teachers including Todd McLaughlin, Tim Feldman and Kino McGregor. She attends classes in different locations when on vacation and enjoys the different teaching styles she encounters. She is particularly appreciative of the encouragement and yoga instruction from Waleah Norton.
To deepen her practice, she attended teacher training at Ashtanga Yoga Center in Norman Oklahoma which included not only the study of asana but yoga philosophy, meditation and thai massage. She received her 200 hr RYT certification in May 2014.
Gail is employed as the County Executive Director for Payne and Lincoln Counties as the USDA/Farm Service Agency and has two adult children, Andrew and Mary Lugg.
Waleah Norton -
Waleah Walker-Norton is a Registered Yoga Teacher RYT 500 with Yoga Alliance and owns Red Earth Yoga Center in Stillwater, Oklahoma. She is trained in the study of Ashtanga Vinyasa in Mysore India under the direction of Saraswathi Jois at the K PATTABHI JOIS ASHTANGA YOGA INSTITUTE. In April 2020, she completed her 500 teacher training hours from the Nexus Yoga Institute in Nosara, Costa Rica. Waleah and her amazing staff at Red Earth Yoga Center teach over 25 classes a week. Prior to opening her Vocational School, Red Earth Yoga Teacher Training Institute, Waleah taught the Oklahoma State University (OSU) Cowboy Golf Team, Cowgirl Golf Team, Cowgirl Soccer Team, Cowgirl Softball Team, Cowboy Basketball Team, & Cowboy Tennis Team.