Candi Patten -
Candi began her exploration of yoga in 2016 while searching for a way to heal her body from a debilitating back injury that was crippling all aspects of her life. After countless chiropractor visits and steroid shots failed to offer consistent relief, surgery seemed to be the only option. That's when Candi decided to take charge of her body and looked to yoga as a way to heal. She quickly found that short daily yoga practices began healing not only her body but her spirit.
Time on the mat became invaluable. Learning to link breath with movement gave her the tools to move her body to calm and recharge her mind. Candi found once she was able to quiet her mind through yoga it was easier to step into a place of calm throughout the day when she needed it most. She describes it as, "All your thoughts are paused allowing your mind to recover from the constant work and repair some of the negativity we encounter throughout the day."
In 2019 in an effort to deepen her knowledge of yoga and its philosophies Candi completed her 200 hour RYT certification at Red Earth Yoga Center. In her free time Candi explores the world with her husband and their 2 sons. She also enjoys hiking, water sports, tennis, and cooking family dinners.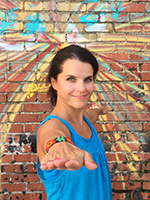 Elena Barton -
Elena began her yoga journey 10 years ago and instantly noticed the benefits the practice had not only on her body, but also on her mind and heart. Eventually her love for yoga brought her to Yoga Teacher Training in 2016. She got her 200-hour certification from Spirit House Yoga in OKC and her Prenatal Yoga teacher training at Kripalu Center for Yoga and Health in Stockbridge, MA.
Her passion in teaching yoga is to make yoga safe and accessible for everybody, create space for students to experience mind-body connection on the mat and to invite them on the journey to deeper peace and self-discovery. A Birth Doula and Childbirth Educator, Elena brings seven years of experience in the birth field into her Prenatal yoga classes, offering mothers practical tools they can use to have a more satisfying pregnancy, labor and birth.
In her spare time, Elena is usually cooking for her friends, hosting a party, exploring the world or playing with her backyard chickens.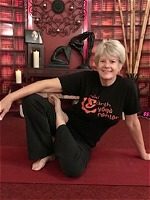 Gail Holland -
Gail began yoga primarily for the physical benefits, primarily stress reduction, but over the years has come to appreciate the other benefits especially the relationship between the mind and the body. She has studied under several excellent teachers in Stillwater and has attended workshops in Oklahoma, Texas, Washington D.C. and Oregon with teachers including Todd McLaughlin, Tim Feldman and Kino McGregor. She attends classes in different locations when on vacation and enjoys the different teaching styles she encounters. She is particularly appreciative of the encouragement and yoga instruction from Waleah Norton.
To deepen her practice, she attended teacher training at Ashtanga Yoga Center in Norman Oklahoma which included not only the study of asana but yoga philosophy, meditation and thai massage. She received her 200 hr RYT certification in May 2014.
Gail is employed as the County Executive Director for Payne and Lincoln Counties as the USDA/Farm Service Agency and has two adult children, Andrew and Mary Lugg.
Jenn Moreland -
Jennifer was first introduced to yoga in 2008. Originally interested in yoga for fitness, she later discovered a love for this practice that challenged her body, burned off anxiety and relaxed her overall self at the end. She received her 200hr certification in 2011 and 300hr upgrade in 2013 in Dallas TX. She is currently attending the 200hr Ashtanga teacher training with Andrew Eppler of Oklahoma. While she continues her passion for education, she loves diving into the philosophy and ancient practices of yoga. Her favorite styles to practice and teach are Ashtanga yoga, Yin, vinyasa flow, yoga Nidra and Pranayama breathwork. Occasionally dabbling in kundalini yoga.
> Jennifer believes yoga should be accessible for all body types no matter where someone is in their journey. And while her practice is much different than a decade ago it has evolved into self love, body maintenance, a spiritual practice that brings peace and an overall feeling of lightness.
> In her spare time, Jennifer loves to read, hike, be active outdoors and chill with her fur babies Chewy and Ruby. Originally from Dallas TX, Jennifer moved to Stillwater in 2020 and is so grateful to have found Red Earth Yoga as her new yoga home.
Laurielle -
Laurielle came to yoga to help with chronic physical and mental stress. In addition, she found a way of life and a community during her 200hr-RYT training under Waleah Walker-Norton at Red Earth Yoga Center in 2016-2017. Since then, she has taught classes at Red Earth Yoga Center, at the McKnight Center for the Performing Arts, and at Le Fitness Club**** in Lourdes France. She is passionate about sharing all aspects of the yogic tradition and about the connection between the mind and body.
Lonna Freshley -
Lonna Freshley has been practicing yoga over a decade and completed her 200 hour yoga teacher training in 2019. She enjoys the philosophy behind yoga and integrating it into her daily life by practicing the connection between mind, body and soul. Lonna's classes are centered on intention-setting, breath and being present, wherever that is for you. Classes are great for all levels.
Waleah Norton -
Waleah Walker-Norton is a Registered Yoga Teacher RYT 500 with Yoga Alliance and owns Red Earth Yoga Center in Stillwater, Oklahoma. She is trained in the study of Ashtanga Vinyasa in Mysore India under the direction of Saraswathi Jois at the K PATTABHI JOIS ASHTANGA YOGA INSTITUTE. In April 2020, she completed her 500 teacher training hours from the Nexus Yoga Institute in Nosara, Costa Rica. Waleah and her amazing staff at Red Earth Yoga Center teach over 25 classes a week. Prior to opening her Vocational School, Red Earth Yoga Teacher Training Institute, Waleah taught the Oklahoma State University (OSU) Cowboy Golf Team, Cowgirl Golf Team, Cowgirl Soccer Team, Cowgirl Softball Team, Cowboy Basketball Team, & Cowboy Tennis Team.